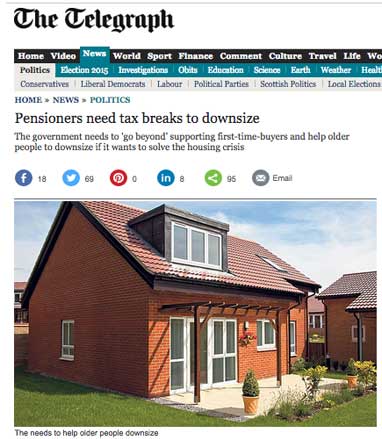 The Daily Telegraph has repeated a load of retirement house builder propaganda in a story about oldies downsizing.
Story link is here
It is basically a re-hash of the 2013 report by the think tank Demos, called The Top of the Ladder – which was paid for by the House Builders' Federation on behalf of its retirement house builder members.
The article was prompted by a letter to the Telegraph pointing out the benefits of downsizing.
These certainly do exist, but retirement house builders are the last people to crow about them.
McCarthy and Stone pioneered sneaky revenue earning leases to bump up the values of its freeholds, which it subsequently flogged off, gave birth to the monster that became Peverel.
(Which, lest anyone forget, systematically cheated thousands of its elderly residents through its subsidiary Cirrus running a price fixing racket, the Office of Fair Trading ruled in December 2013.)
This time the retirement house builders – and insurance companies and other self-interested parties – want stamp duty exemptions and government back loans to prop up the ailing retirement housing model.
Both should be rejected. Most older people downsize to smaller properties that are not designated retirement flats and they are quite right to do so.
This is far more likely to be a fairly managed property whose value will track the local housing market … whereas specified retirement flats can plummet in value on re-sale.
Campaign against retirement leasehold exploitation has written the following to the Telegraph's Letters page:
Dear Editor, The Daily Telegraph
Oldie homeowners should certainly not be bullied out of their family homes by a grisly collection of retirement house builders, insurance companies and assorted self-interested others.
Nor should taxpayers pay a penny to "encourage people to downsize" through stamp duty exemptions or, still less, government-backed loans.
Elderly homeowners are quite capable of doing this themselves, when they choose and without incurring debt.
Far more important is to start dealing with the scandals in retirement leasehold housing: the subject of two Office of Fair Trading investigations – one finding of industrial-scale cheating through collusive tendering – court cases and parliamentary debates.
Those wanting to downsize are quite right to be wary of these overpriced purchases, whose plummeting re-sale values bear no resemblance to the local housing market.
That's on top of revenue-generating leases and unjustifiable fees for property management.
Until this sector is sorted out, oldies would be well advised to stay put in their blameless freehold family homes.
Yours Sebastian O'Kelly
Campaign Against Retirement Leasehold Exploitation