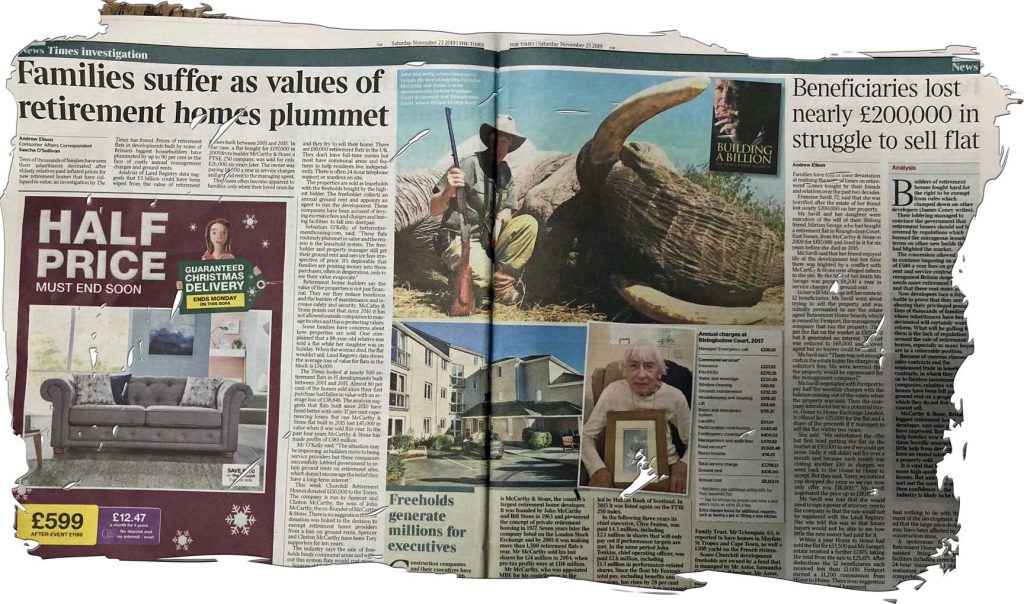 The Times today suggests that families have lost £3 billion on the resale of leasehold retirement flats between 2001 and 2015 in a series of articles that add up to a devastating investigation of the sector.
Some 80 per cent of the properties sold had fallen in value, with an average loss of £38,846, the newspaper claimed.
While pensioners and their families lost out, retirement house builders and ground rent speculators made millions.
In a hard-hitting editorial, the newspaper condemned the exploitation of pensioners as "vulnerable prey" by monetisers in the sector.
The Times cited the example of a flat at Risingholme Court, East Sussex, built by McCarthy and Stone, that was bought for £197,000 in 2009 by Miriam Savage and was sold six years later for £25,875 by her beneficiaries.
As BetterRetirementHousing.com has repeated made clear: these catastrophic falls in value are far from unusual.
Sebastian O'Kelly, of betterretirementhousing.com, told The Times:
"These flats routinely plummet in value and the reason is the leasehold system. The freeholder and property manager still get their ground rent and service fees irrespective of price. It's deplorable that families are pouring money into these purchases, often in desperation, only to see their value evaporate."
To try to restore confidence in this sector, McCarthy and Stone is moving to a long-term management business model – similar to that of the members of the Association of Retirement Community Operators (Audley, Retirement Villages, ExtraCare Charitable Trust etc).
Mr O'Kelly added:
"The situation may be improving as builders move to being service providers but these companies successfully lobbied government to retain ground rents on retirement sites, which doesn't encourage the belief they have a long-term interest."
The Times reported that Churchill Retirement Living, which is owned by the McCarthy family which established McCarthy and Stone, this week gave £150,000 to the Conservative party.
The Conservative government has so far pledged three times to set new ground rents to zero and ban leasehold houses. It has not done so, even though the Leasehold Knowledge Partnership exposed the scandal of doubling ground rent in autumn 2016.
The Times article highlighted the fortunes made out of the retirement leasehold housing sector by protagonists such as John McCarthy and his sons Clinton and Spencer, who set up Churchill Retirement Living.
It reported that hundreds of McCarthy and Stone freeholds are ultimately controlled by the Tchenguiz Family Trust in the British Virgin Islands.
Another freeholder is William Waldorf Astor, half-brother of Samantha Cameron, wife of the former Conservative prime minister, and heir to the viscountcy.
For six years he worked for Vincent Tchenguiz learning the business. The article made reference to Viscount Astor's 19,000-acre Tarbert estate on the Hebridean isle of Jura, which is technically owned by a trust in the British Virgin Islands.
The article pointed out that Clive Fenton, former CEO of McCarthy and Stone, was paid £4.3 million, with pay and benefits rising 28 per cent in three years.
The current chief executive, John Tonkiss, when chief operating officer, saw his package rise in value to £2.6 million, a rise of 57 per cent.
The Times leading article
If the measure of a civilised society is the way it treats its vulnerable citizens then our investigation into the experiences of elderly people when they purchase retirement homes from certain developers paints a depressing picture of modern Britain. Some buyers of new-build retirement flats have b
Main Times article by Andrew Ellson
Tens of thousands of families have seen their inheritances decimated after elderly relatives paid inflated prices for new retirement homes that have collapsed in value, an investigation by The Times has found. Prices of retirement flats in developments built by some of Britain's biggest housebuilder
Freeholds generate millions
Construction companies and their executives have generated huge wealth by selling leasehold retirement homes.Several well-known businessmen and their families, including Vincent Tchenguiz and William Waldorf Astor IV – David Cameron's brother-in-law – also own or control the freeholds to many of the
£200,000 flat sells for £25,000
Families have told of their devastation at realising the scale of losses on retirement homes bought by their friends and relatives over the past two decades. Francine Savill, 72, said that she was horrified after the estate of her friend lost nearly £200,000 on her property.
Developers nobbled government over ground rent ban
Developers of retirement homes fought hard for the right to be exempt from rules which clamped down on other builders. Their lobbying managed to convince the government that retirement homes should not be covered by regulations which banned the outrageous leasehold terms on other new builds that had