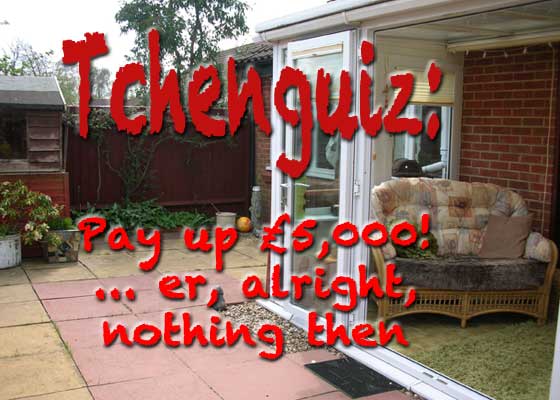 The Tchenguiz Family Trust has backed down on demanding £5,000 for consent for a conservatory that was attached to a  retirement leasehold bungalow more than 20 years ago.
Two days ago, Campaign against retirement leasehold exploitation raised the issue with Estates and Management, which manages the Tchenguiz residential freehold portfolio.
The original story can be read here
The correspondence was also copied to Kris Hopkins, the housing minister, and Michael Ellis, the MP for Northampton North, where the retirement leasehold bungalow is situated.
It was also copied to Sir Peter Bottomley and Labour MP Barry Sheerman, who has spoken in the Commons over similar demands concerning Tchenguiz freehold interests in Huddersfield.
The demand for £5,000 consent was presented to owners Simon and Susan Tookey, who were trying to sell the property at Sheraton for £140,000 at last November. The buyers' solicitor queried consent for the conservatory.
The couple claim that the £5,000 fee lost the sale even though the Peverel employed house manager could confirm that the conservatory was built more than 20 years ago.
Peverel refused to allow its employee to assist the Tookeys by confirming this date because it would harm the interests of its employer at the site, ultimately the Tchenguiz Family Trust.
The bulk of Peverel's business comes from this organisation, which until the arrest of the Tchenguiz brothers on wrong evidence in March 2011 also owned Peverel itself.
Campaign against retirement leasehold exploitation this morning received the following email from Suhail Qureshi, of Estates and Management:
Dear Mr O'Kelly,

Following an initial query by Mrs Tookey, we made a number of enquiries to establish the facts around the construction of the conservatory at 46 Sheraton Close, including contacting the Deputy House Manager.

We have been advised by the Deputy House Manager that she believes that the conservatory was built by the previous tenants over 20 years ago.

Notwithstanding the fact that no documentary evidence has yet been found to corroborate this, we have made decision to waive the £5,000 fee.

A letter confirming this has been issued to Mrs Tookey's lawyers.

Yours sincerely,

Suhail Qureshi

Consents Department