… and yes, of course, Cirrus was a co-sponsor to its annual meeting two weeks ago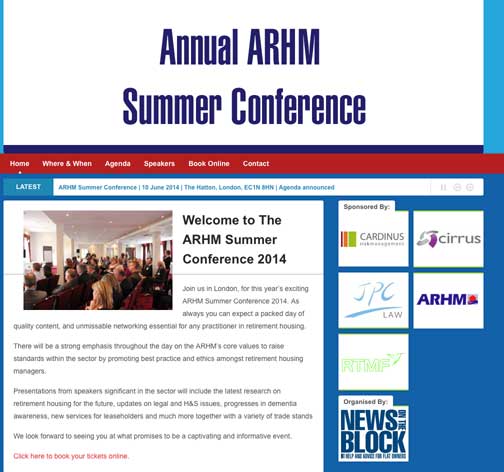 The Association of Retirement Housing Managers has finally made a statement about the Peverel / Cirrus price-fixing racket.
But it amounts to making no comment at all.
The ARHM chairman Paul Silk, who is employed by the Hanover housing association, says the association is considering the issue and is aiming "to put right any breach of the code as opposed to operating solely as a disciplinary committee".
These deliberations may result in a "disciplinary outcome" – or may not result in anything of the sort – and, therefore, the ARHM has no statement to make on the subject at the present time, or perhaps ever.
The full text of Mr Silk's statement to Campaign against retirement leasehold exploitation is below.
Mr Silk declined to comment on why Cirrus was a co-sponsor of the ARHM annual conference in June – only six months after the OFT made its ruling over collusive tendering at 65 retirement sites managed by Peverel.
Peverel is the largest single funder of the trade organisation, perhaps to the extent of 40 per cent of the ARHM's subscriptions.
Mr Silk was asked for details on this matter, but declined to clarify.
Pensioners who have questioned the ARHM over the matter have been stalled or received no reply at all.
One has raised the issue more than 12 times since January.
"They are a useless and unhelpful organisation and do not deserve any sympathy or respect," he says.
"Publishing their handling of this would will give everyone the opportunity to see what they are like, especially those elderly leaseholders who still believe that ARHM would come to the rescue if they had a grievance."
The ARHM's new code of conduct is currently seeking approval from the Secretary of State at the DCLG, Eric Pickles.
Campaign against retirement leasehold exploitation asked Mr Silk and the ARHM board:
"Why should he give it in the face of the ARHM's inaction over this scandal?

"Can you please inform us why residents in retirement housing should feel any reassurance that their managers are members of the ARHM?"
Campaign against retirement leasehold exploitation readers who feel that their interests are not served by the ARHM could write to Mr Pickles explaining why: eric.pickles@communities.gsi.gov.uk
Mr Silk's statement to Campaign against retirement leasehold exploitation says that the ARHM "unlike other organisations, has not dismissed the complaint as not being against one of its members".
This is a reference to the stance taken by ARMA to the OFT finding collusive tendering.
In January ARMA CEO Michelle Banks claimed that because neither Peverel Retirement nor Cirrus were members of ARMA – while, of course, Peverel itself is a member – "our Independent Regulator has no locus to investigate or take any action against Cirrus". More here
This was widely regarded – in Westminster and among the reform-minded among ARMA members – as a pathetic evasion.
Peverel is one of ARMA's biggest members, although its predominance is not overwhelming as in the ARHM.
None of the professional bodies involved in leasehold has made a public statement about an OFT investigation which revealed price-fixing to the detriment of the elderly and vulnerable by the country's largest property manager. Nor did the Leasehold Advisory Service.
It has been left to voluntary organisations such as ours, politicians and the media to comment on these practices.
Full statement from Paul Silk, ARHM:
Dear Sebastian,

Thank you for your e-mail and we are grateful for the opportunity to reply to the points you raise.

We understand that your contact may feel frustrated at an apparent lack of progress in his complaint and, if this is the case, we apologise for this.

It may help if we provide some background to the ARHM which is a small organisation established with the aim of improving standards in the Retirement Leasehold Sector.

Our membership is drawn from the organisations that manage retirement leasehold estates, so we are a trade body to that extent. However, the ARHM's focus has, and continues to be, to promote best practice in the management of retirement leasehold and we work with our members to support them in this objective. We believe that our unique focus is in how we expect members to work with residents beyond that laid down by legislation to ensure that leaseholders are informed and consulted about how their homes are managed and that there is transparency between our members and the residents of the properties that they manage. Our code of practice focuses very much on this relationship.

As explained, we are a small organisation due to the nature of our specialism in retirement leasehold. Our Board is drawn from our member organisations who give of their own time to support the work of the association and are not recompensed in any way. Due to the voluntary nature of the Board, we do not meet as frequently as larger trade bodies/organisations may do. We currently have one member of staff to support the work of the association and, as such, we do not have the resources available to larger organisations such as the OFT or ARMA as mentioned in your e-mail and any investigation of this nature will take longer due to the limited resources that we have. Nevertheless, we have given a commitment to fully investigate this complaint and we will continue to do so.

You have raised a number of questions in your correspondence which we will attempt to answer.

It was appropriate to wait until the outcome of the OFT enquiry into price fixing so as not to prejudge an outcome or in some way prejudice this outcome. We note that the OFT findings were against Cirrus and not Peverel Retirement (albeit they are both part of the Peverel Group). Despite this, the ARHM, unlike other organisations, has not dismissed the complaint as not being against one of its members given that any detriment as a result of this would have been suffered by residents of one of our members. We have not attempted to wash our hands of this or bury it under the carpet as has been suggested.

The purpose of our Code of Practice sets out a set of objectives in how members should engage with and consult residents together with a set of standards which enhance and build on the legislative requirements. Its purpose is to give more rights to residents than merely those set out by law. Members are expected to abide by the code. However, the code's importance as a statutory code of practice means that it applies across the board to all managers of retirement leasehold whether members or not. As a result of this, tribunals and courts will have due regard to the code when passing judgement on the actions of any manager of retirement leasehold property even if this does not relate to a member organisation. We believe that this is a very important distinction of our code and one that we would hope you would be happy to support. A major part of the ARHMs work is to support members achieve the expectations of the code and that is why membership of the ARHM should be seen as a positive approach by an organisation as it signals not only an agreement to the principles of the code but an openness to work towards achieving best practice.

One aspect of the operation of the code for members is the right of residents to make complaint to the ARHM and have that complaint considered by the Audit and Regulation Committee. The purpose of the committee is to work with that organisation to put right any breach of the code as opposed to operating solely as a disciplinary committee. We believe that this approach is one which best serves the interests of residents and this is how we are currently working with Peverel regarding this complaint. It would therefore be inappropriate, at this stage, to make comment on any possible disciplinary outcome and whilst we continue to work with Peverel to achieve a satisfactory outcome for any affected residents.

We acknowledge that whilst Peverel Retirement is one of the largest contributors to the ARHM through its membership subscription, this does not affect how we deal with any complaints made on behalf of residents of Peverel managed properties.

Best regards,
Paul Silk
Chair to the Association of Retirement Housing Managers