Cherry Jones has managed to drastically reduce service charges using local contractors …
The epic right to manage victory at Rectory Court – where Stonewater was given the boot and the new manager is LKP-accredited Cherry Jones of Swindon-based Home from Home – has made it to the national press.
The leaseholders at the 44-flat site in Gloucestershire were organised by non-resident Barbara Farmer, whose mother lives at the site.
Now five pensioners with a combined age of 428 have become directors of the site after having become "fed up with being 'fleeced' for essential services".
They now control all the services that residents pay for, including gardening, cleaning, window cleaning, electricians, and utilities.
One of the new directors Muriel Adams, 88, is quoted on MailOnline: "We've been fleeced for years and it's come to an end."
The move to self management came from non-resident Barbara Farmer, whose mother lives at the site.
Like several other sites in the country – such as Grace Darling House in Bournemouth – the leaseholders had lost confidence in housing association Stonewater.
The story also appeared in The Times:
It was not just the high fees they were forced to pay for the upkeep of their building. Residents of a block of retirement flats were also fed up with a turnover of expensive workmen coming from all over the country.
Miss Farmer contacted LKP, which recommended an RTM provider and suggested a number of LKP accredited managing agents to consider for the management of the site.
The RTM directors chose Cherry Jones, of Home from Home, based in Swindon. More here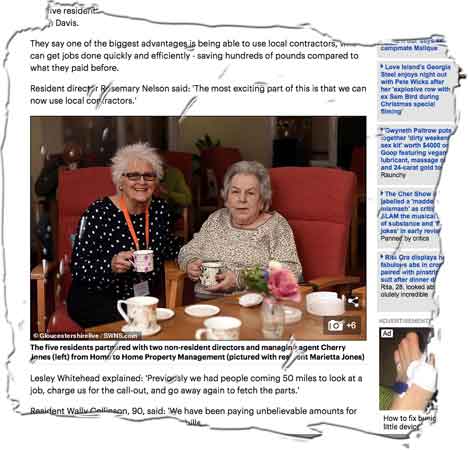 She has a strong track record as a leaseholders' advocate, having drawn our attention to Countrywide property management stalling in handing over control of Bovis sites in Swindon which actually had resident management companies.
The controversy resulted in Bovis dumping Countrywide from its sites nationwide.
She said:
"Retirement properties should offer peace of mind and value for money. This is the last port of call for these people – it should be a happy place.

"It was amazing for us when we took over, the amount of money that old people were being charged for their service charge, which was totally unrealistic.

"We were able to half the service charge, whilst still maintaining services just by taking on local contractors and using local people to help take on the day-to-day running of the site."

Cherry added: "The whole atmosphere in that building has changed. They can now see the sums for each individual services, rather than services being lumped together.
"They're really, really happy."