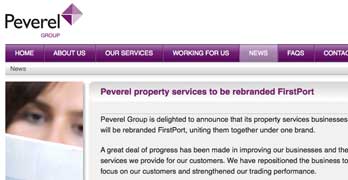 In what appears a desperate measure, Peverel is renaming itself FirstPort.
In an announcement today all its property services businesses will be rebranded FirstPort, uniting them together under one brand.
An expensive logo is doubtless underway, and be prepared for a deluge of queasy photographs of elderly residents in a state of rapture and joy.
It is goodbye to OM, Peverel Retirement, Solitaire and, perhaps, Cirrus (In fact, Cirrus, Careline UK and Appello are now to be separate from the property management group).
There will be a lot of misleading blather to pretend that the leaseholders are in some fashion Peverel / FirstPort's customers: they're not; Vincent Tchenguiz and the (few other) freeholders are.
Peverel says:
"A great deal of progress has been made in improving our businesses and the services we provide for our customers. We have repositioned the business to focus on our customers and strengthened our trading performance.
"We are a business which is about more than just bricks and mortar; we want to be the people that everyone turns to first to look after their home and community. We need a brand which reflects that to help us grow our business and build a long-term sustainable future.
"Over the coming months, we will bring together all our businesses under one brand, FirstPort. This will support the commitments in our Customer Charter to be easy to deal with, open and transparent."
Janet Entwistle says: "I am really pleased to be able to announce this rebranding today. Bringing all ten property services brands together as FirstPort is a new chapter for the business.
"By uniting our businesses under one new brand, our customers will find it far easier to deal with us.
"As a result of the hard work and commitment of people at Peverel over the last two years, we are now a very different business which is reflected in our new brand. We are looking after more than just bricks and mortar – we want to be the people everyone turns to first to look after their home and community."
Peverel's announcement is here