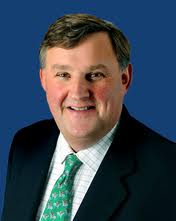 Tory MP Oliver Colvile (left) yesterday pledged his support to the two retirement developments in Plymouth that are locked in right to manage disputes with their freeholder.
At two packed meetings at Elim Court and Regent Court in his  Sutton and Devonport constituency, Colvile told the residents that he would support them in their litigation and to generate publicity for their cause.
Colvile said he would look into an application to the Bar Council pro bono unit to see whether the right to manage cases – both of which are going to appeal at the Land Tribunal – would merit free high-end legal representation.
He also said he would contact staff at Plymouth University law school to examine the case.
The residents left Colvile in no doubt of their strength of feelings towards their landlord, Avon Freeholds, and managing agent Y and Y Management. Both are London based.
At Regent Court, Colvile said he would work with the Leasehold Knowledge Partnership to inquire why AXA insurance refused to pay anything at all for a new roof that was damaged by storm in April last year. AXA originally offered 50 per cent of the cost of a new roof and then declined to pay anything at all.
The residents had to raise £140,000 to pay for the new roof by January 25.
Israel Moskovitz, who owns Avon Freeholds, agreed at a meeting last week with Sir Peter Bottomley and Campaign against retirement leasehold exploitation / Leasehold Knowledge Partnership that he would inform AXA he had no objection to Colvile inquiring into the claim.
The RTM claims at both sites are being handled by the Right To Manage Federation, a commercial RTM facilitator headed by Dudley Joiner. He, too, was at the meetings on Saturday.
Elim Court lost its third attempt at right to manage in January, owing to an error in the paperwork, and is appealing. Regent Court won its right to manage in February last year.
Moskovitz appealed against the decision and it is to be heard on April 18, a full 14 months after the original decision.
Sir Peter Bottomley told Moskovitz and Joseph Gurvits, who heads Y and Y Management, that he realised leaseholders' right to manage could be frustrated by legal stratagems and the deployment of barristers: "But that did not make it right."