There will be – and there are already – issues with big event fees
The conference of the Association Retirement Community Operators in central London last week offered a fascinating alternative vision for the retirement housing sector to the one that we have.
The organisation represents providers who build and manage their own sites, as opposed to the volume house builder model – ground rents, sales of freeholds to offshore entities, catastrophic re-sale values, repeated controversies, not actually much supply given the alleged demand – which account for the bulk of retirement housing in the UK.
Retirement community operators, on the other hand, build and manage their own sites, providing complicated and often expensive communal facilities and care provision.
The organisations involved vary considerably, and by no means are all retirement community operators – which have issues as well – members of ARCO.
So the conference drew in representatives from charities and housing associations such as the ExtraCare Charitable Trust, Housing and Care 21 and the Methodist Housing Association, through to Bob Bessell's Retirement Security – see more here – and the very high end Audley, the Inspired Villages Group – the recent Legal and General foray into retirement community housing – and LifeCare Residences, a New Zealand company.
In the mix were a number of would-be new entrants who see this area as the future direction of retirement housing provision. As well as financial backers such as Goldman Sachs, which smartly disobliged itself of McCarthy and Stone on its flotation and thus avoided the present share price slump, and Blackstone, the US private equity fund.
The stratospheric rise in UK residential property values over the past two decades, and consequently the considerable capital wealth of our elderly, explains their interest.
As a result, the ARCO conference – and the organisation itself – is a curious blend of social workers and carers … along with bankers.
On the one hand, you had an outstanding presentation from Shirley Hall and Angela Harding, of the ExtraCare Charitable Trust, giving a euphemism-free insight into dealing with death: it should happen amid the familiarity of home and not in hospital, and it often does so at ExtraCare sites.
On the other, there were presentations that were equally free of euphemisms by hard-nosed, commercial practitioners looking at the money.
An analysis of exit fees on re-sale – the result of death, in almost all cases – could not be clearer: investors and operators gain significantly if these exit fees are not too slow in coming through. The average time spent in a retirement community site is eight years.
So, the greater the turnover of re-sales, the more profitable the site – which may be a source of alarm or black humour among the residents.
Given that with one ARCO member – LifeCare Residences – exit fees can amount to 30% on properties worth £1 million, the amounts involved – and consequently the trust involved by the clientele – are very considerable indeed.
What was so impressive about the ARCO conference was how clear-eyed this sector is.
The ambition is to reach 250,000 residents in retirement community sites by by 2030. But things could and, often do, go wrong, as was acknowledged.
Asked by an audience member what the biggest threat to the sector was, chairman Nick Sanderson, who is also CEO of Audley, said that it would come as a surprise.
"That events overtake us, rather than us setting the agenda," he replied. "There is a risk that we could be hit by something coming completely from the side. This will effect the pace of change. We are seeing it at the moment with leasehold. There could be collateral damage where people argue about a certain issue which catches us out."
There are plenty of community retirement operators – often with only one or two sites – who are not members of ARCO.
It is a fair bet that there will be scandals. Operators will go bust; some will cheat the residents.
At a later session Christopher Rooke, MD of Australian company One Fell Swoop, referenced the scandal in retirement communities in Australia last year.
New Zealand and Australia, where 17 per cent of over 65s live in designated retirement housing, are held up as the model for retirement community operators, but the scandal last year over Aveo, which only has 8% of the Australian market, has taken the gilt off it.
"The reason they had me forcibly admitted to the Biala Unit, which is a psychiatric department … was to punish me, was to shut me up, was to silence me with drugs." It was June 23, 2009, when Gwyneth Jones was admitted to a psychiatric ward after complaints about her behaviour at Aveo retirement village The George in one of Melbourne's bayside suburbs.
And this one:
Aveo: How elderly Australians are being ripped off in retirement villages. Geoff had just lost his partner when Aveo threw him out of his home. A Fairfax-Four Corners investigation shows how retirees are being sold a dream only to find themselves in a financial sinkhole.
Core to this is the exit fee on re-sale, which ARCO terms "event fees".
Sydney Morning Herald:
Retirement villages such as Aveo collect an exit fee when a resident dies or leaves. It is a fee unique to the retirement village industry. It is generally based on a percentage of the purchase price on a sliding basis over the number of years of occupancy.
The fee can be extremely lucrative for Aveo. In the company's most recent Freedom Aged Care contracts, the exit fee charged by Aveo after just two years is 40 per cent of the value of the property. Some units are now selling for $600,000, which means that for each unit that changes hands every two years or so, Aveo pockets a cool $240,000.
It also means that the higher the churn or "turnover" of residents, the more exit fees the company collects.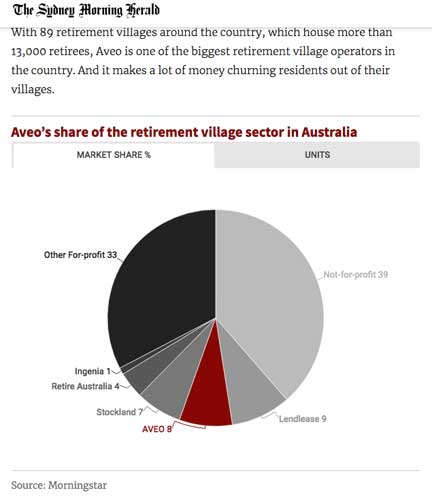 What ARCO and its membership seem very keen to do is lay out their wares as openly as possible, which fits in fine with the ethos of some of its charitable members such as ExtraCare Charitable Trust and Housing and Care 21. Or some of its more socially engaged commercial ones, such as Retirement Security.
But this approach might be less welcome with the high-end housing providers, and their financial backers.
But amid the ARCO membership there seems to be an acceptance that greater scrutiny is inevitable, and should not be feared.
No one seems that patient with the smoke and mirrors nonsense of some retirement providers: McCarthy and Stone telling BBC R4's MoneyBox programme that 30% of its sites are communal areas just prompted a groan of derision among some conference attendees.
We will see how transparent the upmarket retirement community operators are.
Exit fees of 15% or even 30% in the case of LifeCare Residences is a really significant amount of money.
Factor in that the price of this accommodation is greater than equivalent sized properties in the non-retirement sector and service charges with, say, a 15% profit built in – as one operator acknowledged was the model – and the potential profits are considerable. It is no surprise that Goldman Sachs and Blackstone are sniffing about.
ARCO pulled off a considerable coup in getting the Law Commission, tasked with examining exit fees, to endorse its business models in its report Event Fees in Retirement Properties, with provisos of transparency and good practice.
We urged caution: event fees should be for clearly designated services; let some of these issues come before the courts.
Our patron MPs Sir Peter Bottomley and Jim Fitzpatrick declared the report to be a "backward step".
Time alone – and perhaps some of those surprises Nick Sanderson was hinting at – will tell whether we have got this one wrong or not.
Further reports from ARCO conference to follow
The DCLG leasehold stakeholders' group was told yesterday that the Law Commission report into exit and other fees published earlier this month was 'calamitous'. The study had come about following the Office of Fair Trading investigations into the retirement housing sector. One concerned the systematic cheating of pensioners over the Peverel / Cirrus collusive tendering …