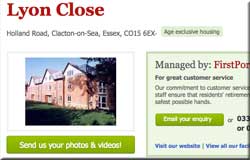 A day after FirstPort Retirement was admonished by the Association of Residential Managing Agents a letter has just been sent off to the trade body's CEO Nigel Glen questioning its tendering processes.
Alan and Ann Merryweather, of Lyon Close in Clacton on Sea in Essex, want to know why a quote for a emergency cord service is not going out to tender.
Instead, the £7,061.75 bill comes from Appello Careline – "the following contractor" – a company that FirstPort does not acknowledge that it owns.
The notice is "below the consultation level as required by the Landlord and Tenant Act. This notice is for information purposes only and is not a notice of consultation."
Ominiously, the area manager says there is sufficient money in the contingency fund to pay for the work.
Perhaps it should not require ARMA to point out that if you are demanding money for your own subsidiary, you should let your captive audience know that this is the case from the start.
The issue is specifically addressed in Chapter 8 of the ARHM code.
8.1 The appointment of contractors to provide works or services should be transparent and managers should not profit from their appointment.

Where a corporate or other associated link exists between a company or firm tendering or engaged for works and the landlord or manager, this should be disclosed to leaseholders and service charge payers in advance of any contract or works being carried out.

…

8.10 If a manager provides a service through an associated company or associate and that service has not been competitively tendered, then the manager should allow any scheme to choose not to use that provider. 
The ARHM can be contacted: 020 7463 0660;  enquiries@arhm.org
"We understand that your company needs to make a profit, but you must also understand that we need a competitive service, after all it is our money you are spending!" the Merryweathers tell FirstPort Retirement.
The FirstPort Retirement letter is below