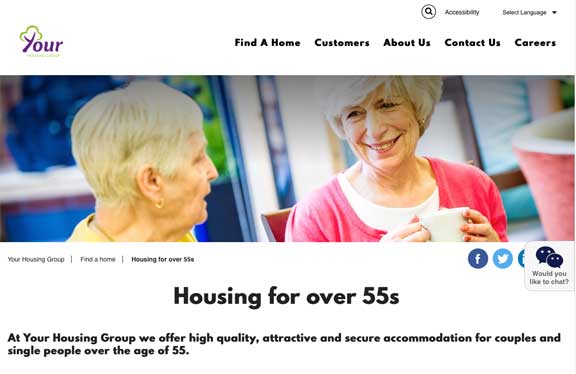 A Your Housing Group shared 75% equity retirement flat has sold for only £39,129.26, after three years on the market.
The property is at Your Housing Group's Heyeswood Retirement Village, in Haydock, Merseyside.
The property was bought by the mother of Cath White in August 2015 for £92,213 but has now sold – after three years on the market – for only £70,000.
No subletting is allowed at 92-flat Heyeswood Retirement Village by the Your Housing Group, a housing association, so the family has had to pay out the £6,600 a year service charges on an empty flat.
Other fees are involved, so from the £70,000 proceeds the following deductions are to be made:
Service charges: £23,370.57
Sinking fund contribution: £5855.07
0.75% Administration Cost: £525
1% Reassignment fees: £700
Legal admin fees: £420

These leave the total proceeds of the sale at £39,129.26p.
Cath White told LKP: "I was happy with my mother being in Heyeswood Retirement Village, but while the concept is good the practice isn't. It is ridiculous that this flat was empty for three years while people were on the housing list and could have used it.
"Not allowing subletting was expensive for us, and wasteful."
Anchor Housing Association unilaterally permitted subletting – even though leases barred it – when the retirement housing market went sour in 2012.
https://www.betterretirementhousing.com/anchor-trust/
In October 2018, Donna Latter, senior sales advisor, informed LKP:
"Your Housing Group can understand the frustration that Miss White has experienced but as you will appreciate the sales market and the unpredictable availability of properties for sale at Heyeswood is beyond our control."
She claimed that there two properties on the market at Hayeswood Retirement Village, with another five with sales proceeding.
housingcare.org reports re-sale prices are from around £93,500 (1 bed) to £163,000 (2 bed), at July 2017.
While one flat at Heyeswood Retirement Village sold for £60,000 in May 2017, other sales appear stronger on the Land Registry:
£115,000 in February 2018;
£121,995 in March 2018;
£115,000 in October 2017.
The issue of a prohibition on subletting has not been addressed by the Your Housing Group.
Your Housing Group claims:
"All our Retirement living developments provide fabulous communal accommodation with bistro, hobby/craft room, residents lounge, and assisted bathroom. The modern contemporary apartments benefit from fully fitted luxury kitchens with built in appliances, wet room with shower, central heating and double glazing. Most have the added extra of patio if located on the ground floor, balconies or Juliette balconies. Communal landscaped gardens, CCTV gives you and your family extra security. If in the future your personal needs change then we have flexible care or support options that change with you.

"We give you options to purchase, part buy and pay part rent, outright sale and rent, this gives you flexibility to suit your lifestyle A service charge is also payable.

"We have Retirement Living Developments from Keswick in Cumbria to Leek in Staffordshire Moorlands, we are always looking at new opportunities, so please give us a call for up to date information, prices, costs and the developments we are currently constructing."
At Your Housing Group we offer high quality, attractive and secure accommodation for couples and single people over the age of 55.
Ms White wrote of her concerns to Housing Minister Heather Wheeler and received the following response: Minister