Another disastrous retirement leasehold resale price, where neighbours have paid £165,000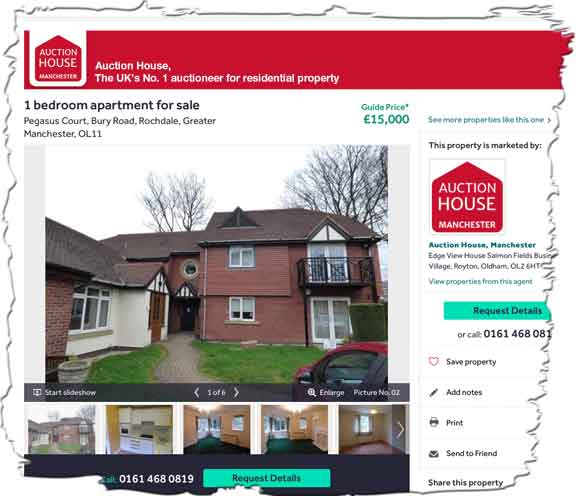 A leasehold retirement flat at Pegasus Court, in Rochdale – built by Pegasus Retirement – is up for auction with a headline price of £15,000 later this month.
The property has been sold twice before: for £59,750 when new in 1997, and for £84,950 on resale in 2004.
Fifteen years later the price has collapsed, unlike the local property marker.
Auction House Manchester is labelling 15 Pegasus Court at a guide price of £15,000 – suggesting it might go up to £25,000.
Whether either sum is reached, this is a calamitous result for some family even in the often appalling resale market in retirement properties.
Pegasus Court was the name invariably used by Pegasus for its developments.
The one at Rochdale is has 61 flats, bungalows and cottages. Its communal facilities are a lift, stair lift(s), lounge, laundry, guest facilities, garden, conservatory and library.
The website housingcare.org says "Access to site easy, but less so for less mobile people. Distances: bus stop 500 yards; shop 0.5 mile(s); post office 1 mile(s); town centre 0.5 mile(s); GP 0.5 mile(s)".
The auctioneers don't know the lease length, the service charges or the ground rent.
Pegasus Court resale transaction history on the Land Registry tells an inconsistent story.
Some properties have risen in prices achieved.
For example, 40 Pegasus Court sold for £167,500 in 2017 and cost £116,000 in 1996, which is healthy.
But 46 Pegasus Court sold for £39,000 in 2017, which is likely to be another one-bed flat.
The Land Registry data is not complete for this site, probably because of the over-50 qualifying criteria, which meant that it was hit-or-miss whether the data was made public or not.
This was inexplicable and to consumers' detriment, but the Land Registry no longer restricts this data.
---
Red illustrates a downward slide to prices; blue upward
Pegasus Court, Rochdale, OL11 4EA
Transaction history
Number 1
2013-07-04 £118,000
Number 2
2002-04-29 £110,000
Number 3
2014-02-04 £138,700
2005-11-11 £170,000
Number 4
2015-08-21 £143,000
2008-10-10 £180,000
1997-10-17 £81,500
Number 6
2015-03-31 £169,950
Number 7
2001-05-11 £90,750
2000-05-26 £94,000
Number 8
2018-10-03 £147,500
2014-05-19 £140,000
Number 9
2013-12-06 £122,000
Number 10
2017-12-15 £78,000
2008-06-19 £190,000
Number 11
2012-07-02 £139,950
2005-08-19 £99,950
Number 12
2017-06-23 £40,000
Number 14
2014-05-21 £132,500
2007-07-31 £159,000
1996-10-16 £75,000
Number 15
2004-06-07 £84,950
1997-06-04 £59,750
Number 16
2006-02-22 £127,000
1999-09-09 £80,000
Number 18
2015-03-13 £93,500
Number 19
2012-02-17 £135,000
2003-08-29 £116,500
Number 20
2007-11-14 £124,950
Number 21
2016-07-08 £74,500
2001-07-31 £42,950
1998-01-29 £66,000
Number 22
2011-10-21 £145,000
Number 23
2016-09-30 £70,000
2000-04-28 £54,000
Number 24
2018-03-09 £90,000
2000-04-14 £89,950
Number 25
2004-10-29 £172,000
2002-12-23 £71,900
Number 26
2002-03-19 £46,500
Number 28
2007-03-30 £135,000
Number 29
2016-11-04 £112,000
Number 30
2016-04-26 £62,950
2001-08-15 £56,000
Number 31
1997-02-28 £53,000
Number 32
2006-05-12 £140,000
Number 33
2002-04-10 £70,000
Number 34
2017-11-20 £48,000
2007-04-04 £98,500
Number 35
2010-02-26 £95,000
2005-08-19 £115,000
2003-04-11 £59,995
2001-07-27 £47,000
Number 36
2018-07-13 £65,000
2008-06-27 £120,000
2007-04-24 £117,000
2002-10-04 £74,950
Number 38
2005-07-29 £140,000
Number 40
2017-01-27 £167,500
1996-08-27 £116,000
Number 41
2017-03-08 £99,950
2015-02-18 £40,000
Number 42
2001-01-19 £51,500
Number 43
2003-09-26 £74,950
2001-11-27 £54,000
Number 44
2015-09-17 £95,000
2010-07-06 £125,000
2003-04-04 £81,950
1999-09-10 £55,000
Number 46
2017-12-15 £39,000
2015-12-09 £37,250
2015-04-23 £35,000
1997-03-14 £50,950
Number 47
2016-01-27 £38,500
Number 48
2017-03-17 £49,950
Number 49
2012-03-23 £125,000
2006-04-28 £152,500
2004-05-25 £139,950
2002-06-10 £69,950
Number 50
2001-05-15 £90,000
Number 51
2005-09-16 £125,000
Number 52
2017-04-12 £49,000
2002-02-08 £50,000
2001-10-16 £43,700
Number 55
2005-04-29 £139,950
Number 56
1997-10-01 £75,000
1995-04-07 £77,000
Number 57
2003-12-22 £145,000
Number 58
2017-03-23 £54,950
2002-04-11 £149,950
1995-06-09 £68,500
Number 59
2009-08-20 £136,500
Number 60
2005-08-02 £165,000