The Daily Mail today runs an article about Woodchester Valley Village: thought to be the only mutually owned retirement village in the country.
The village, four miles outside Stroud, has been in other publications such as the BBC and the Guardian, here
The residents here have been wonderfully resourceful ever since the company that owned the site, Bluchie Limited, went bust in 2011.
(Its is now in administration and its directors are given as: Anthony Selwyn Tabatznik, 67; Andrew Stafford Deitsch, 58; Anthony John Burgess, 51; Hudson Findlay Cooper, 67.)
Over two and half years, the residents have taken over the site, raising £2 million to buy the freehold off the administrators.
Seventy of the 75 home owners on site took part in the initiative, which was led by Peter Wilson, 77, a retired business manager, and Betty Young, a former government spokesman.
'In the middle of the night I'd wake up and wonder if what we were doing was really possible," the Mail quotes Mr Wilson as saying.
"But in the morning it would be all hands on deck. There was a real team spirit. I hope everyone who comes here can see the benefits of the way we run this community.
"It's not a project to take on lightly, but I really believe we could be the model for the future."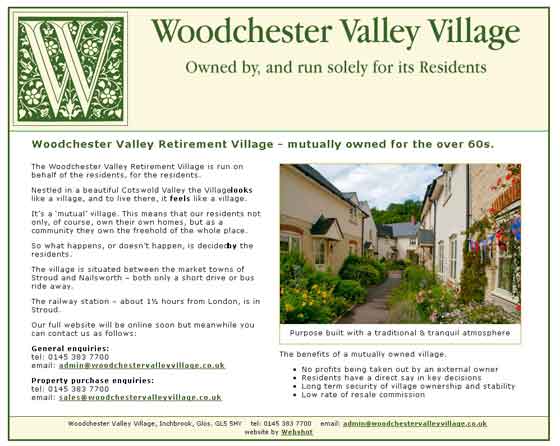 This will be music to the likes of Bob Bessell, the founder of Retirement Security Limited in Leamington: a retirement housebuilder who acknowledges that things are deeply awry with retirement housing.
Since the residents began marketing the village in March last year, they have filled 18 of the 38 empty properties. Previously, it was typical for just eight to sell in a year.
Property prices in the village start at £130,000 for a one-bedroom flat and go up to £500,000 for a four-bedroom, detached house. Service charges vary according to the size of your home, "but is typically around £5,500", which is unlikely for the flats.
"By my estimate," writes journalist Victoria Bischoff. "When the village is fully occupied, the mutual will take in around £400,000 in service charges. They'll also make a profit from other services they provide: a home-delivered meal is £2 plus the cost of the dish; a handyman call-out is £15 an hour.
"All residents get one hour of cleaning a week included in their service charge. There is also a gardener."
Woodchester Valley Village employs 16 employees staff, including a chef. Care staff are on call 24 hours a day.
"All profit is put into reducing the service charge or making improvements to the village. That's why some areas seem so plush."
Woodchester Valley Village is a world away from the standard Tchenguiz freeholder / Peverel managed site.
There is no denying that it is an upmarket site, with informed and educated people living on site.
Both qualities help, but neither is a guarantee that people will act sensibly and collectively, without petty and pointless squabbles: the ruin so many right to manage initiatives.
It is a massive achievement to have pulled this off, and the residents of Woodchester Valley Village must be warmly congratulated on what they have achieved.
Full article in the daily Mail here
Or the Guardian here