– Pensioners in park homes raise £8,000 to help
– The Small family are "latter-day Rachmans", Commons told
– 'Anti-gay mob surrounds mobile home'
– Barristers step in with free assistance
– 311 sign petition to DCLG demanding new management
– Campaigner admits intemperate language
A blogger and champion of pensioners living in park homes is facing bankruptcy proceedings next month after a £44,000 libel dispute.
Tony Turner, 71, published a website highlighting what he saw as abuses at 17 sites across the West Country owned by JB and J Small Park Homes.
The Small family, headed by Jeffrey Small (senior) who died in May last year, have been accused in the Commons of "holding people to ransom" and likened to "latter-day Rachmans".
Jeffrey (senior), his son Jeffrey (junior) and his now widow Barbara consented to a court order in January 2011 not to harass residents.
Last year Jeffrey (junior) was fined £11,500 after admitting health and safety breaches, and there are proceedings for misrepresentation to be heard in July.
Earlier this year a petition signed by 311 park home residents urged the Department of Communities and Local Government to use the Mobile Home Act 2013 to remove the Smalls' site licences.
Instead, they want to have a court-appointed management, which is an option available to leaseholders.
All 17 of the Smalls' sites are restricted to those over 55 years old and in total provide 1,000 homes. They are considered an alternative to retirement flats by residents.
Mr Turner, a former senior Thorn EMI executive fallen on hard times, moved to St Dominic's park, Harrowbarrow, Cornwall, with his partner Alexander after recovering from cancer in 2006.
Two years later Mr Small (senior) bought the site for £2.8 million.
Mr Turner, who was made chairman of the residents' association, began speaking out against what he claims was intimidation and overcharging.
He admits that he has at times used intemperate language during these disputes, and has himself been subject to an anti-harassment PIN order by the police
To deal with Mr Turner, Mr Small (senior) deployed criminal barrister David Osborne, 71, who went to work in 2010, obtaining witness statements alleging that it was Mr Turner who was intimidating residents at the site.
Mr Osborne wrongly sought, and obtained, an injunction against Mr Turner and was "severely reprimanded" by the Bar Standards Board (in July 2013). Mr Osborne was made to attend a seven-day ethics course.
He had "failed to assist the Court in the administration of justice in that he failed to disclose to the Court all the facts which were material to the application namely that there was a history of allegations and counter allegations of misconduct between residents at St Dominic's Park, Harrowbarrow ("The Park"), that there were allegations of homophobic and/or bigoted comments directed at the Respondents/Defendants by the park owners and other residents and that the Respondents/Defendants had the support of the Residents Association."
The ruling is here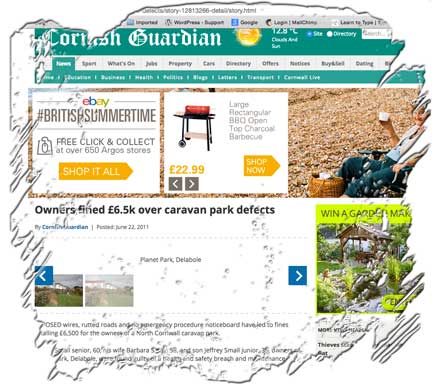 At one point, a small crowd including some residents opposed to Mr Turner's stance surrounded his park home, shouted homophobic abuse, made slit-throat gestures and then cut down a shrub with a chain-saw, Mr Turner claims.
"Our lives here have been really appalling at times," says Mr Turner. "We have the backing of the vast majority of the 120 residents here with the exception of half a dozen."
A year later in 2011, Turner established a website, the "JBS Residents Action Alliance", which lasted for 18 months.
Infuriated by the content, Mr Small (senior) again summoned up lawyers to shut the website down alleging libel.
When a 10-day hearing in the London high court was listed – which would have cost hundreds of thousands of pounds –Mr Turner threw in the towel and began negotiations.
Mr Small (senior) claimed £100,000 in costs, but this was whittled down to £20,000 to be paid after the deaths of Mr Turner and Alexander – ie when the park home was sold.
The deal was brokered on Turner's behalf in May 2013 by Heather Rogers QC, of Doughty Street Chambers, and solicitor Tamsin Allen, of Bindmans, who – like barrister Nigel Abbas, of 5RB Chambers – all worked for free on this case.
Mr Turner said he would not repeat the libels, but within months broke these undertakings to the High Court by claiming that false evidence had been given in court by Mr Small (senior).
He claimed that he had discovered that an invoice for a new sewerage system from US firm Ashbrook Simon-Hartley for £100,000 was fabricated.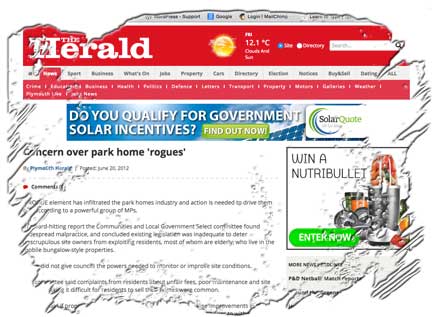 The website was closed down by the service providers following approaches by the Mr Small (senior)'s lawyers, and attempts were made to have Mr Turner committed to prison for contempt of court in November 2013 and February 2014.
These failed, but Mr Small (senior) successfully demanded costs for both these actions of £9,512.50 and £12,600, bringing Mr Turner's total liability to £44,000.
As £20,000 is to be paid after the deaths of Mr Turner and Alexander, the immediate bill is £24,000.
Pensioners in park homes across the country have so far contributed £8,000.
But now Mr Turner and his new barrister Jonathan Price, also of Doughty Street Chambers who is also working for free, see a ray of hope.
New evidence has emerged that they believe proves that Mr Small (senior) had indeed presented false evidence in previous court proceedings.
At a hearing in February 2013 at Plymouth County Court in front of Judge Jeremy Griggs, Mr Small (senior) had produced the document from US firm Ashbrook Simon-Hartley showing that the sewerage plant at St Dominic park had cost £100,000.
But a witness statement from Marc Dewit, an employee of the company, says that the letter is fabricated and the figures are entirely bogus.
A paragraph had been added to read:

"We have looked through our records and compared this with other systems installed within a similar environment. Based on our findings we anticipate an appropriate cost of £90,000.00 to £100,000.00 to complete these works."
With Mr Small (senior) now dead, neither his widow Barbara nor son Jeffrey (junior) have given an account of why the version presented in court differs from the original document.
Mr Price argues that "the defamation proceedings were therefore brought by Mr Small (senior) fraudulently and must be set aside".
In addition, Mr Turner is claiming damages, costs and expenses resulting from the proceedings.
It is a curiosity of the case that the Smalls' solicitor is not one of the usual London libel firms, but Royce and Co, a three-partner firm of family solicitors in Fulham that specialises in wills and conveyancing.
Until last year it was a member of Solicitors for the Elderly.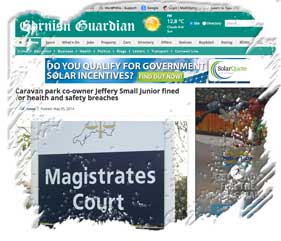 Solicitor Sara Collie has rejected Mr Turner's arguments in a robust statement to Campaign against retirement leasehold exploitation.
The libels related to statements made in 2011 and were "nothing to do with" the document Mr Small (senior) presented in court in 2013.
"Mr Turner's published defamatory statements included statements that our clients were no better than wild scavenging verminous animals.
"Mr Turner has also used racist language towards our clients (including calling Mr Small Junior a "gyppo" as he appears to have an issue with their traveller background) …
"… Mr Turner's is trying to "spin" the facts to avoid bankruptcy."
She adds:
"The defamation proceedings bought by our clients were settled on terms which included Mr Turner's undertaking to the High Court that he would not repeat the various defamatory allegations which he had made about Mr Small and Mr Small's widow and son.

"Mr Turner then proceeded to deliberately and knowingly breach those undertakings to the Court on many occasions.

"This unacceptable behaviour resulted in further court orders and an injunction being made against Mr Turner including a finding that Mr Turner was guilty of many counts of contempt of court.

"Costs orders were also made against Mr Turner, the majority of which remain unpaid. The bankruptcy petition relates to the failure to pay these costs orders.

"Mr Turner appears to be of the view that he is not bound by injunctions of the High Court and that he can disobey court orders at will and should not have to bear the consequences of such disobedience …

"Mr Turner is now making, unfounded and unproven, allegations in relation to a document which he claims was used in county court proceedings in 2013 in an attempt to evade costs orders made against him for contempt of court in entirely unrelated proceedings."
Furthermore, Miss Collie claims that she has received abusive emails from Mr Turner and that he had behaved "very threateningly" towards her in the High Court.
He dismisses this as "nonsense" and points out that the incident was in front of witnesses. He says that Miss Collie was attempting to provoke him.
Miss Collie offered to send to Campaign against retirement leasehold exploitation examples of Mr Turner's abusive emails, but she has not done so.
We asked whether there was a police report for Mr Turner's supposed threatening behaviour at the high court, but we have not received a reply.
The case is being followed by a number of MPs and parliamentarians.
Eric Pickles, the former DCLG Secretary, introduced the Mobile Home Act in 2013 to clean up the sector. More here
The Park Homes for Justice website can be found here